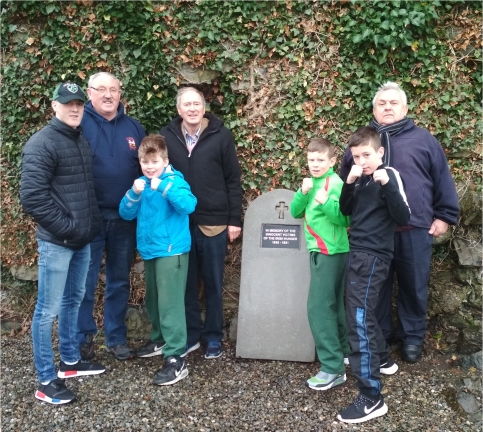 At the laying of the memorial in December 2017: Frankie Cleary, Joe Lavelle, Terry Reilly (Historian) and Vincent McMahon of Ballina Boxing Club. Posing in front are boxers Patrick Lawrence, Michael Owen Collins and Francis Lawrence
.
Ballina Boxing Club fulfills exile's wish


Ballina Boxing Club and local historian Terry Reilly collaborated with New Yorker Bill Fahey to arrange for the erection of a Great Famine memorial in the grounds of Ballina's old Augustinian Abbey, in order to fulfil the Christmas wish of an exile.
Mr. Fahey, whose father was a native of Kilmeena, Westport, had worked with the Ireland-based Committee for Commemoration of Irish Famine Victims (CCIFV) to create the International Hunger Markers project to mark all unmarked Great Famine graves wherever they are found -- on the island of Ireland, its islands and locations overseas -- as an affordable and viable way to respectfully remember the forgotten resting places of Great Famine victims. Plaques have already been erected at other sites in the county and represent a small but most fitting acknowledgement of the short lives of so many men, women and children, who were so callously treated by those who would claim to act as their protectors.

The Irish population was decimated during and following the Great Famine. Life for the ordinary people who lived in squalor in rural Ireland during those years was in total contrast to that of the so-called gentry who resided in mansions and held banquets on a regular basis. The potato was the staple diet of the rural masses, and when the crop failed totally due to a fungal disease called blight in 1847, the people were destitute. While some who could offer assistance locally did so, state intervention on a very small scale wasn't an adequate response, and millions died or emigrated as a consequence.