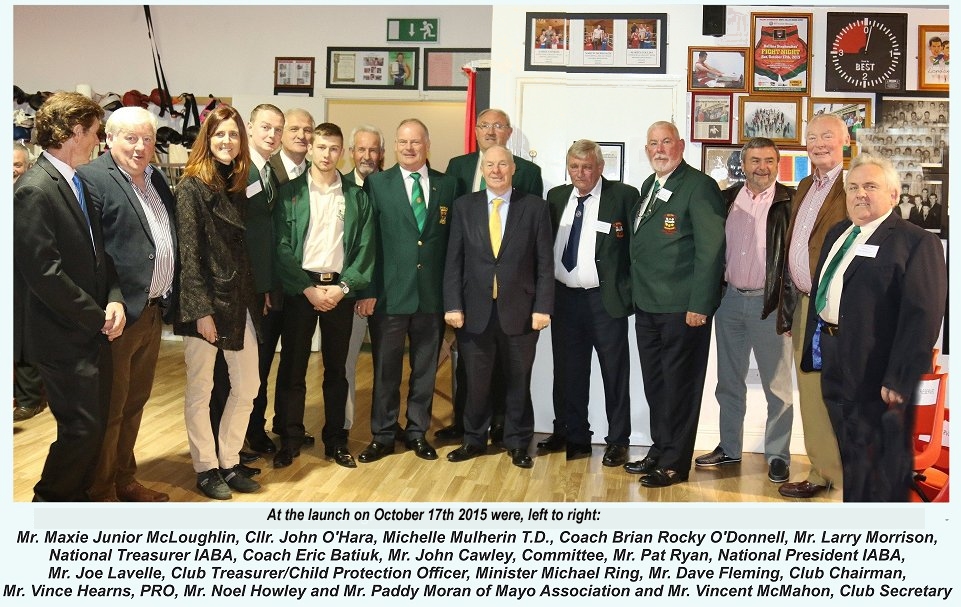 The launch of the project to construct a permanent home for Ballina Boxing Club took place in the Dick Hearns Gym, Mercy Road, Ballina

on the evening of October 17th 2015. It was an information evening and the press and the local radio station took note and asked to be appraised of progress. A company limited by guarantee was formed -- trading as Dick Hearns Centre -- partial state funding was sought and a grant was promised, but after wasting more than three good years in the proces of getting to the drawdown stage, the company decided to opt for a self-build in November 2019 as the expiry of planning permission was looming in June of 2020. Phase 1 would involve constructing an open-plan indoor arena and a successful application for a Sports Capital Grant would aid completion of Phase 2 which would outfit the ground floor of the unit as a functional boxing gymnasium.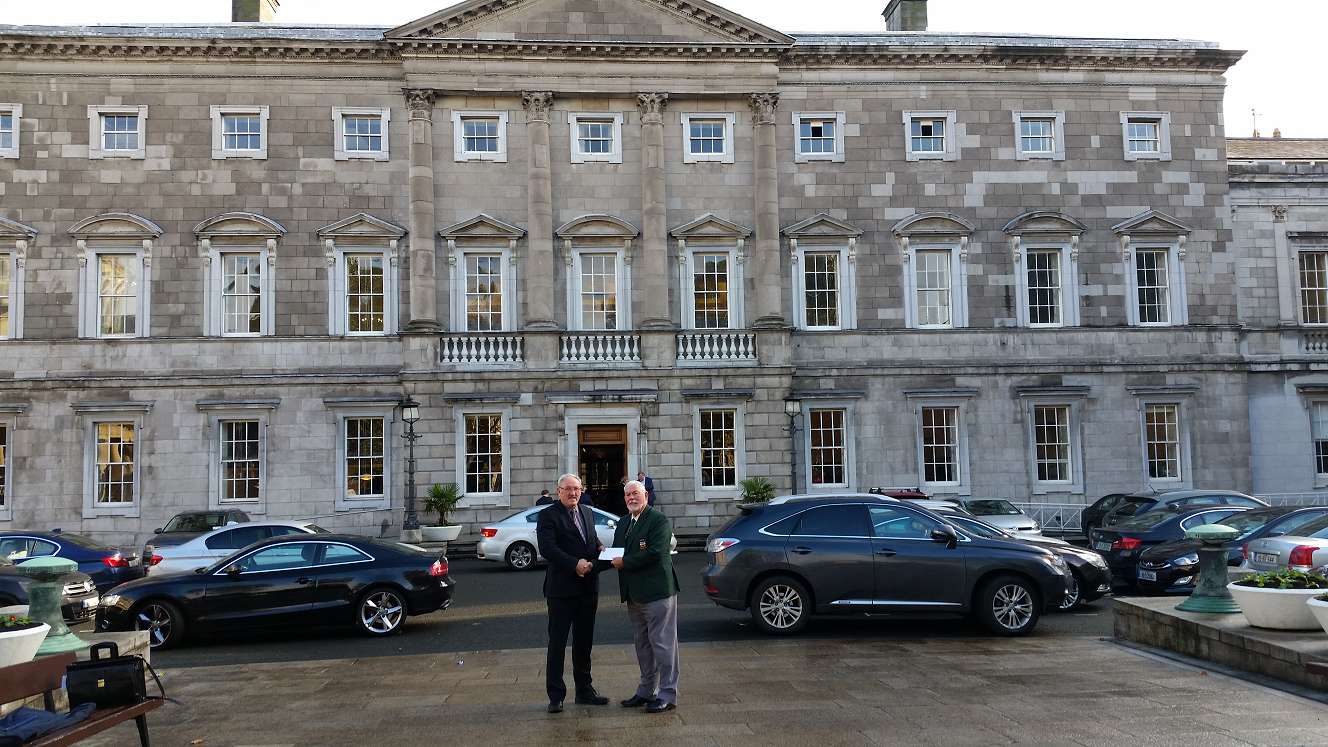 Mr. Vince Hearns, PRO Ballina Boxing Club and company director, presents the proceeds of the sale of a gold GAA medal in his possession to Mr. Joe Lavelle, Treasurer, following a visit to Dáil Éireann in 2016. The Hearns family are fully behind the project to ensure the valuable heritage left by their late father to Mayo's boxing and Gaelic Football athletes is not only recognised but that it will continue to encourage the tradition of development of supreme athleticism whether on the canvas or with a ball on a pitch.
Artist Richard Hearns presented the club with a painting of a set of boxing gloves which had belonged to Dick and promised to commission a painting of the great man at a later date. GoFundMe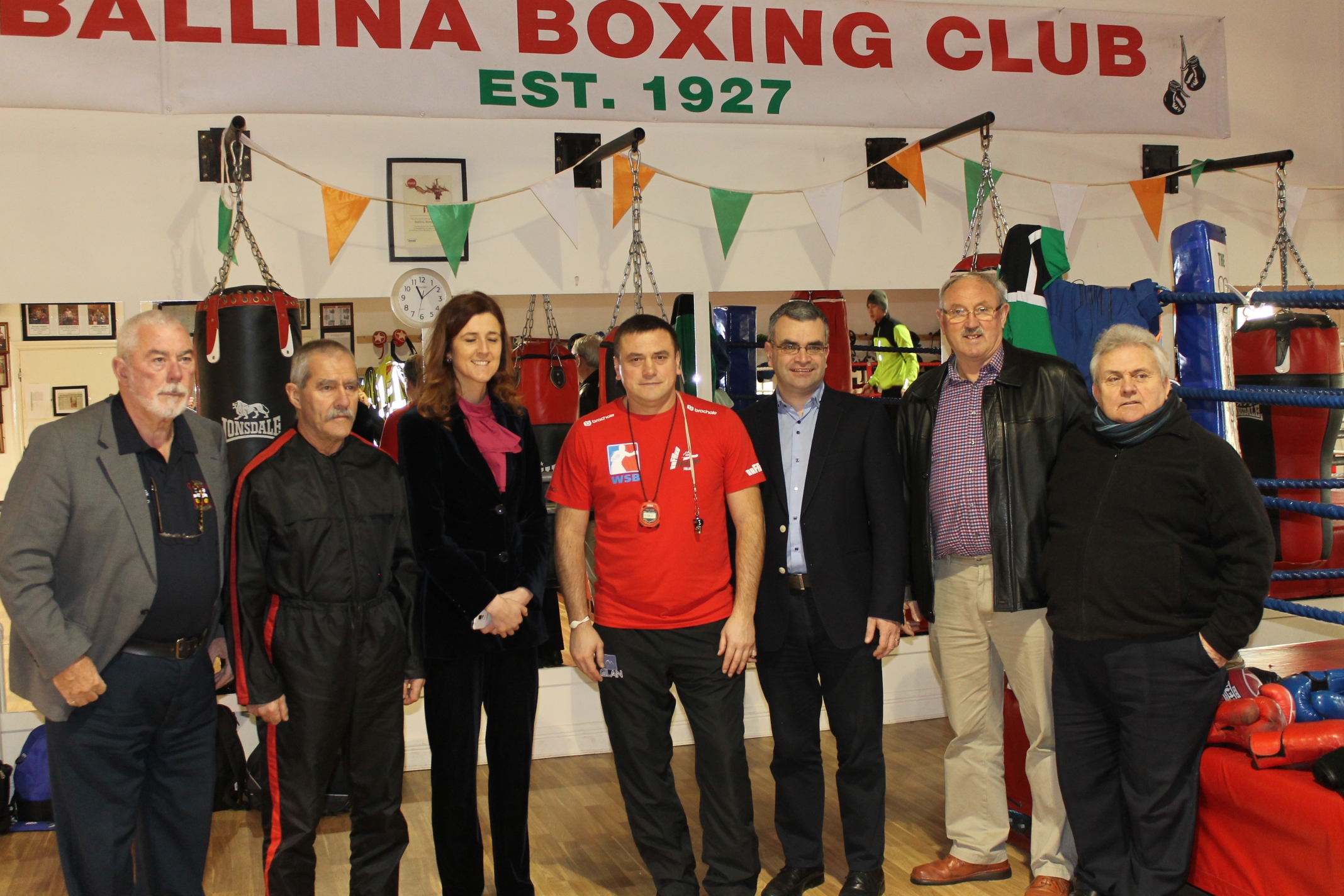 From left: Vincent Hearns, Ballina BC PRO; Jerzy Baraniecki, Polish Coach; Deputy Michelle Mulherrin TD; Sergiy Korchynsky, Polish Head Coach and native of Ukraine; Deputy Darragh Calleary TD; Joe Lavelle, Ballina BC Treasurer/CPO and Vincent McMahon, Secretary Ballina Boxing Club.
This photograph -- showing the backroom team for the 16-day Polish training camp in Ballina -- was taken in the gym in December 2015, and is testament to the ability of the club to bring national teams to Ireland going forward.