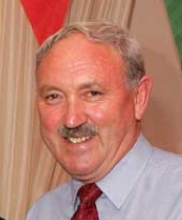 Joe Lavelle is head coach with Ballina Boxing Club and also performs the role of CPO. He is also a Director and Treasurer of the company trading as Dick Hearns Centre. A Mayo Boxing Board Hall of Fame Award recipient, he is known and respected as a genuine boxing man up and down the whole island of Ireland. While some attention-seeking photo-bombers in the periphery of the boxing world jostle for position at organizational level, Joe Lavelle's goal is to bring facilities for boxing in Mayo into the 21st century, and to build on Ballina Boxing Club's tradition of forging relationships with international boxing communities, notably England and Wales in the past, but also Holland, Poland, Portugal and Germany in latter years. Ciarán Sweeney of Ballina Boxing Club was coached by Joe to winning gold in London's Haringey Cup in 2012. He was instrumental in having the Ballina Boxing Club facilitate the Ireland/Finland Senior Ladies International in April 2015 and a training camp for the Rafako Hussars, Poland, in a pre-Olympic 16-day visit to Ballina in December 2015, and which led to an invitation to participate in a multi-nations tournament in Kielce in 2017 and in 2018. Joe was also instrumental in facilitating tournaments in Bristol which involved a Co. Mayo Boxing Board selection V. Broad Plain ABC selection in September 2019 and in February 2020. This was a new chapter in the history of boxing in the county and bodes well for the future.
Ballina Boxing Club has received huge sponsorship over the years from The Merry Monk Restaurant -- built and owned by Joe -- and anybody who knows Joe would say he is generous to a fault. He is the driving force behind the plan to construct the new multi-functional training arena in Ballina which would be available to the local community as well as giving a permanent home to Ballina Boxing Club. This new venture will be dedicated to the late Dick Hearns (Joe Lavelle's idol) and will be called the Dick Hearns Centre. It will be an extension to, and managed by, Ballina Community Sports and Leisure Centre and will be available for use during their opening hours, 0900 to 2200 daily, and by prior arrangement at other times in the case of exceptional need.
"The ring in boxing is akin to the field of play in Gaelic games and players inside both who have given much entertainment down through the years deserve proper training facilities," says Joe, "and I want the best for Ballina boxers." His efforts in developing facilities and creating opportunities for boxers to enable them achieve their goals are his legacy to the sport. Joe will be the first to acknowledge the role boxing and sport has played in his own formative years, and the valuable lessons learned on the way, and this has become a major driving force in ensuring the Dick Hearns Centre will become a reality in 2021. Having the support of the important individuals and units in the IABA has added substantially to the momentum and is testimony to the very high regard in which he is held.
Joe lives in Ballina with his wife Maureen. He has lots of interests outside of boxing and much of his time is devoted to tending the farm to ensure top quality fresh-from-the ground vegetables, potatoes, greens/salad vegetables and lamb are available for the kitchen in The Merry Monk Restaurant which he built over twenty years ago. He is an avid follower of Mayo GAA Football and is known by musicians the length and breadth of Ireland to be a lover of Irish music, and for gigs which he hosts as often as possible. He has been main sponsor for a number of sporting organizations in the past, most notably Ladies Football and Team Merry Monk in men's senior basketball. Without his support, the name of Dick Hearns would have faded from the memories of Ballina people, and that would indeed have been a tragedy. Thankfully, this proud but gracious Mayoman saw fit to put plans in place to build the Dick Hearns Centre, and to follow through when others would have failed. "I don't want any thanks," says Joe. "This was just something that needed to be done and I wanted to be a part of it. All I'm sorry for is the time wasted with false promises on too many occasions over the years." he says. "I've been with Ballina Boxing Club for many years, and could not just walk away after all the shared journeys. The club has been a very big part of my life and I think about it all the time," he admits. "And I'm not finished yet!" he adds as he looks straight into the eye, his face lit up like a mischievious child's.