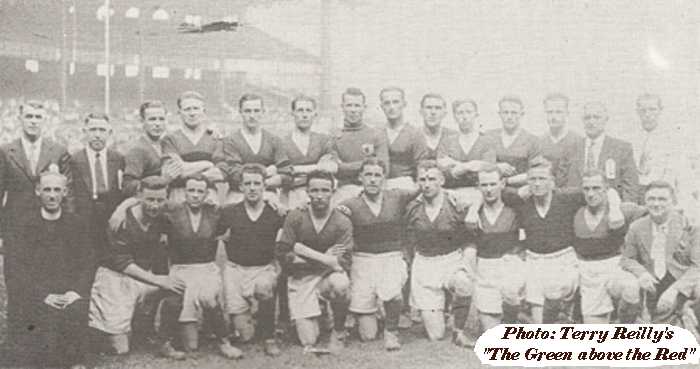 The Mayo 1936 All-Ireland team and officials pictured in New York in 1937.
Back, left to right: Paddy Mullaney, Bernie Durkin (Chairman), George Ormsby,
Patsy Flannelly, Henry Kenny, Patrick Collins, Tom Burke, Paddy Quinn,
Purty Kelly, Gerald Courell, Tom Grier, Tommy McNicholas, Séamus O'Malley.

Front, left to right: Fr. Eddie O'Hara, Pat Brett, Jackie Carney, Jim 'Tot' McGowan,
Paddy Moclair, 'Capt.' Paddy Munnelly, Peter Laffey, Billie Mongey, Josie Munnelly,
Tommy Regan, John Clarke.
Dick Hearns had played Gaelic Football with his native County Mayo for a couple of seasons before retiring from the game at 25 to concentrate on his boxing career. By then he had also played football for Roscommon, Cork, Longford, Donegal and Dublin during his years with An Garda Síochána which he had joined in 1928 at the age of 21. When Mayo won their first All-Ireland Senior Football Championship against Laois in 1936 on a score of 4-11 to 0-5, Dick Hearns was the man who had put them through their paces and trained them. The Sam Maguire Cup was presented to Mayo team captain, Seamus O'Malley, having been presented to Kildare in 1928 for the first time after defeating Cavan in the All Ireland Final of that year. For the record, Dick Hearns had qualified to box in the Berlin Olympics of 1936, but politics got in the way and Ireland was not represented there. But, it's an ill wind that doesn't help someone, and Mayo people at home and abroad are most grateful for Dick's help in preparing the team to take the game to Laois in Croke Park on 27th September 1936.
Mayo won the trophy again in 1950 and in 1951.